The success of any software introduction is determined by its user-friendliness. Despite high investments, only a few global players – including ServiceNow – succeed in achieving a consistently high level of user satisfaction across different user groups.
In the future, artificial intelligence will continue to radically change software development and with it the possibilities of modern user experience and further accelerate the anchoring of cross-departmental SPM processes.
In this blog post, you'll discover:
Which hurdles in SPM implementation are automatically overcome by user-friendly SPM software.
How you can recognize user-friendly SPM software
What usability trends are emerging through artificial intelligence
How ServiceNow SPM is driving usability in its platform now and in the future
Fokus: Software Usability
The challenges of introducing SPM software and establishing new ways of working require a transformation process in all companies. Experience shows that this never takes place without resistance and negative moods. 100% agreement and satisfaction across all stakeholder groups and hierarchical levels can rarely be achieved in work and in life. However, if a digital solution noticeably simplifies and accelerates operational work and frees up space for value-creating activities, you have a good chance of rapidly advancing your company's digital transformation.
The Art of Successful User Onboarding
The more complex the enterprise software, the more important onboarding becomes. With the right SPM partner, you can ensure that your employees are well supported right from the start and that they use the software correctly. But only if the user interface is coherent, up-to-date and detailed product documentation can be accessed independently, and support is immediately available in the event of technical difficulties, can user training manifest itself in smooth corporate processes in the long term. Therefore, when selecting software, it is also important to carefully examine the information and service environment surrounding the software.
ServiceNow SPM: Pioneer in Enterprise UX
ServiceNow SPM excels at enterprise UX on all these levels and goes far beyond with its own user experience features and a $1 billion investment in artificial intelligence by 2026. With user experience analytics and process mining, you already get maximum visibility and recommended actions for using your SPM solution. Where workflows and user interfaces have to be configured manually today, it can be assumed that in the foreseeable future these processes will be automated by AI or their independent execution by business users will become possible. Enterprise software will then not only be customized for companies and user groups, but will also be highly customizable at the user level, while at the same time guaranteeing company-wide, intensive data capture and process compliance.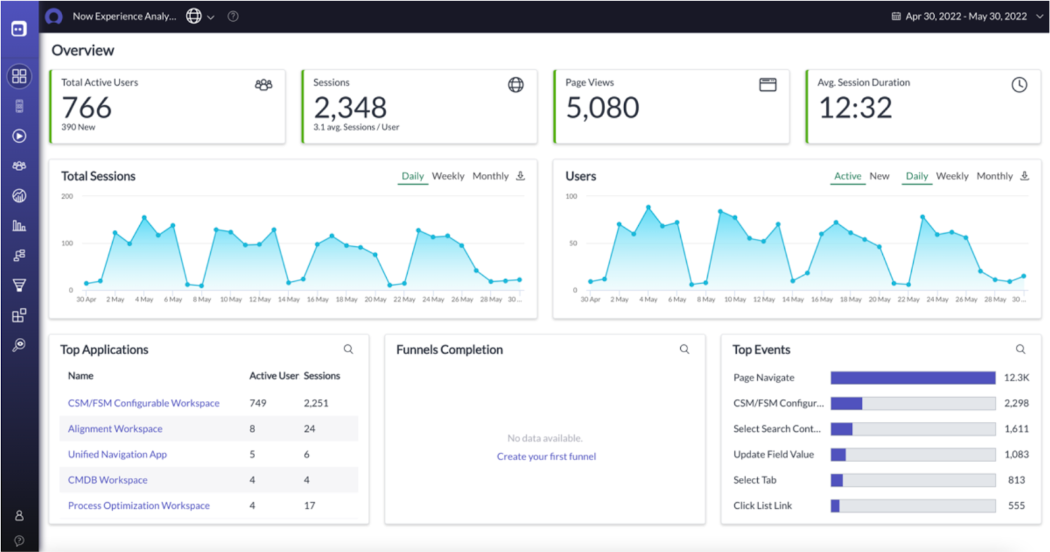 SPM Usability & the Gamechanger Artificial Intelligence
What else awaits us in the field of AI-supported usability?
The Enterprise Software of the Future Will Be More Flexible
We assume that changed user behavior will be immediately recognized by artificial intelligence and taken into account more quickly and continuously through a high degree of automation in software development. For users, however, the "changeable" solution will not require constant relearning. Completely new forms of interaction with the software, controlled by natural language and virtual assistants, will ensure intuitive work at all times.
SPM Is a Team Sport and Is Further Enhanced by AI Features
Whereas today's successful SPM still requires a targeted exchange of information via preconfigured dashboards, analyses and various meeting formats, the SPM solution of the future will independently identify relevant facts and continuously report them in a granular, context-related manner. Organizational learning will thus no longer be limited to a few consolidated insights, but will be actively shaped and taken into account in daily work. Benchmarks with colleagues, departments, but also by bringing in external data will positively influence the performance culture of your organization.
New Information Presentations and Dealing With Complexity
f a mobile-thought-out version of your SPM solution is exceptionally helpful today, as with ServiceNow SPM, there's a lot more innovation to come in the future. Augmented reality, i.e., the enrichment of the physical world with digital objects or the virtual representation of planned project results, will set new creativity processes in motion and enable completely new forms of collaboration – within your company, with your customers and with your service providers.
Discover With Us ServiceNow SPM and the Digital Processes of the Future!
We guide you from the evaluation of your business processes to the ongoing development of your digital transformation. Through our ADVVISE PPM QuickStart program, we quickly create customized frameworks with a focus on fast, continuously usable results. The potentials of artificial intelligence are of course taken into account.